Cocktails and Candy: A Halloween Pairing Guide
It's nearly Halloween again, and like it or not, it's a season of excess candy. Maybe your kids have a couple leftover bags or you overestimated the ever-shrinking number of trick-or-treaters. Or maybe you just straight-up stole candy from your kids. Whatever, you're an adult. You don't need to justify your choices. With co-workers bringing extra sweets into the office, Halloween candy is inevitable. But we can help. We've come up with cocktail pairings for some of the best candies so you can indulge responsibly—with an adult beverage.
Before we begin though, let's establish some ground rules. First, sort through your stockpile and separate out any candy corn, wax lips, circus peanuts or any of those waxy-taffy-peanut butter things wrapped up in orange or black paper. Next, throw all of that garbage into the trash. Now you can move on to the good stuff.
Caramel Apple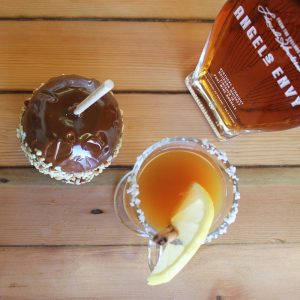 Okay, this one's a little bit of a cheat, because no one really gives out caramel apples on Halloween anymore. But it's such an iconic fall treat that we really wanted to include it. It's got caramel—it's got an apple (and possibly crushed nuts), and we couldn't let this one pass without a pairing. Rather than challenging the flavors though, we thought we'd complement them with subtle accents of spice and salt.
Harvest Angel
Ingredients:
2 parts ANGEL'S ENVY
6 parts hot cider
Lemon slice
Cinnamon stick
Sea salt
Instructions:
Run lemon slice around the rim of a mug, coat in sea salt. Pour in the cider and Angel's Envy and garnish with lemon slice and cinnamon stick.
Red Licorice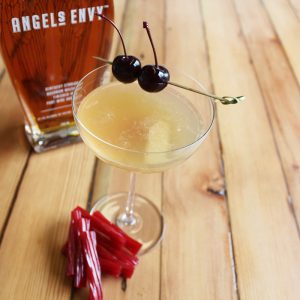 It's the 21st century, so hopefully no one is still giving out black licorice anymore. On the other hand, red licorice will always be delicious. This is a timeless treat that manages to never seem too old-timey, and we like it with a cocktail a little on the tart side. It cuts through the waxiness and accentuates the sweet berry/cherry flavor.
Angel's Envy Sour
Ingredients:
1½ parts ANGEL'S ENVY
1½ parts lemon juice
¾ part simple syrup
Instructions:
Pour the Angel's Envy, lemon juice and simple syrup into a cocktail shaker with ice cubes and shake well. Strain into a chilled sour glass and garnish with a cherry.
Mini–Chocolate Candy Bar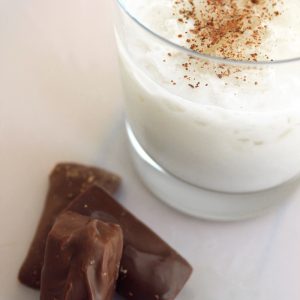 This is a tricky one. There are DOZENS of varieties of mini-chocolate bars with a wide variety of fillings: nougat, caramel, coconut, peanut butter, peanuts, rice crisps—you name it, they've got it. So is this an impossible pairing? Our Vanilla Milk Punch says otherwise. It's rich, creamy, and the vanilla will work with virtually any flavor you can find encased in chocolate.
Ingredients:
1¾ parts ANGEL'S ENVY
3½ parts whole milk
1 part simple syrup
2 droppers Bitter Tears Lolita Bitters
Instructions:
Dry shake all ingredients hard. Pour into a double old fashioned glass with shaved ice. Shave fresh nutmeg on top and enjoy.
Chocolate Peanut Butter Cup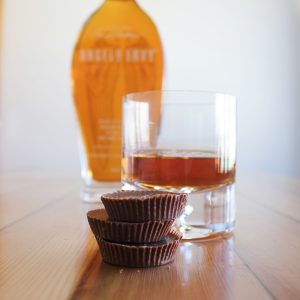 Angel's Envy, straight. This is the king of Halloween candy. It's requires nothing more than excellent whiskey, and Angel's Envy is up for the challenge. Angel's Envy accentuates the chocolate while bringing out the faint saltiness of the peanut butter. It's a damn good match.