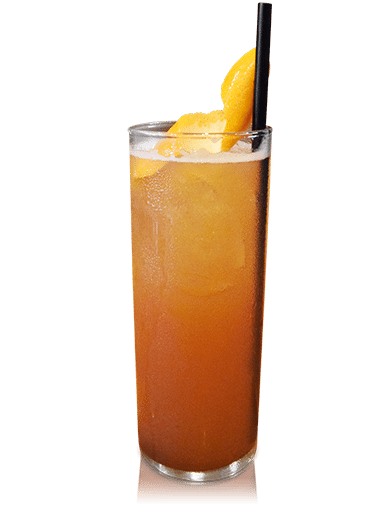 Ingredients
1¼ oz ANGEL'S ENVY Bourbon Finished in Port Wine Barrels
½ oz Royal Combier Grande Liqueur
½ oz almond and fig infused maple syrup
healthy dash of Napa Valley Bitters: Toasted Oak Bitters
1¾ oz homemade spiced pear cider
Preparation
If served chilled: combine all ingredients into a mixing glass with ice and shake, then strain over a collins glass filled with ice. Garnish with an orange swath.
If served hot: combine all ingredients except cider into a toddy glass, then fill with hot cider.
 
Almond & Fig Infused Maple Syrup:
2 cups of dried fig
1 cup of almonds
8 cups water
2 ½ cups of maple syrup
Pour fig and almonds and 8 cups of water into a pot and cook on low heat for 30 minutes.. Add maple syrup. Cook on low for 1 minute and stir until blended thoroughly. Remove from heat. Strain with a cheese cloth into another pot and refrigerate.  Place into used wine bottles, cleaned with labels torn off.
 
Spiced Pear Cider:
8 cups of organic pear juice
2 1/2 table spoons of turbinado sugar
4 cinnamon sticks (2 ½ inches each)
7 all spice berries
5 cloves
half of a medium sized ginger root cut up
Combine ingredients into a medium sized pot and cook on medium heat for 8 minutes.  Then, let sit for 20 minutes with heat turned off, seeping.  Strain into empty wine bottles with a cheesecloth and chill.  Retrieve cinnamon sticks to reuse.