You are reading
Warm Up Your Fall Gatherings with Angel's Envy Autumn Punches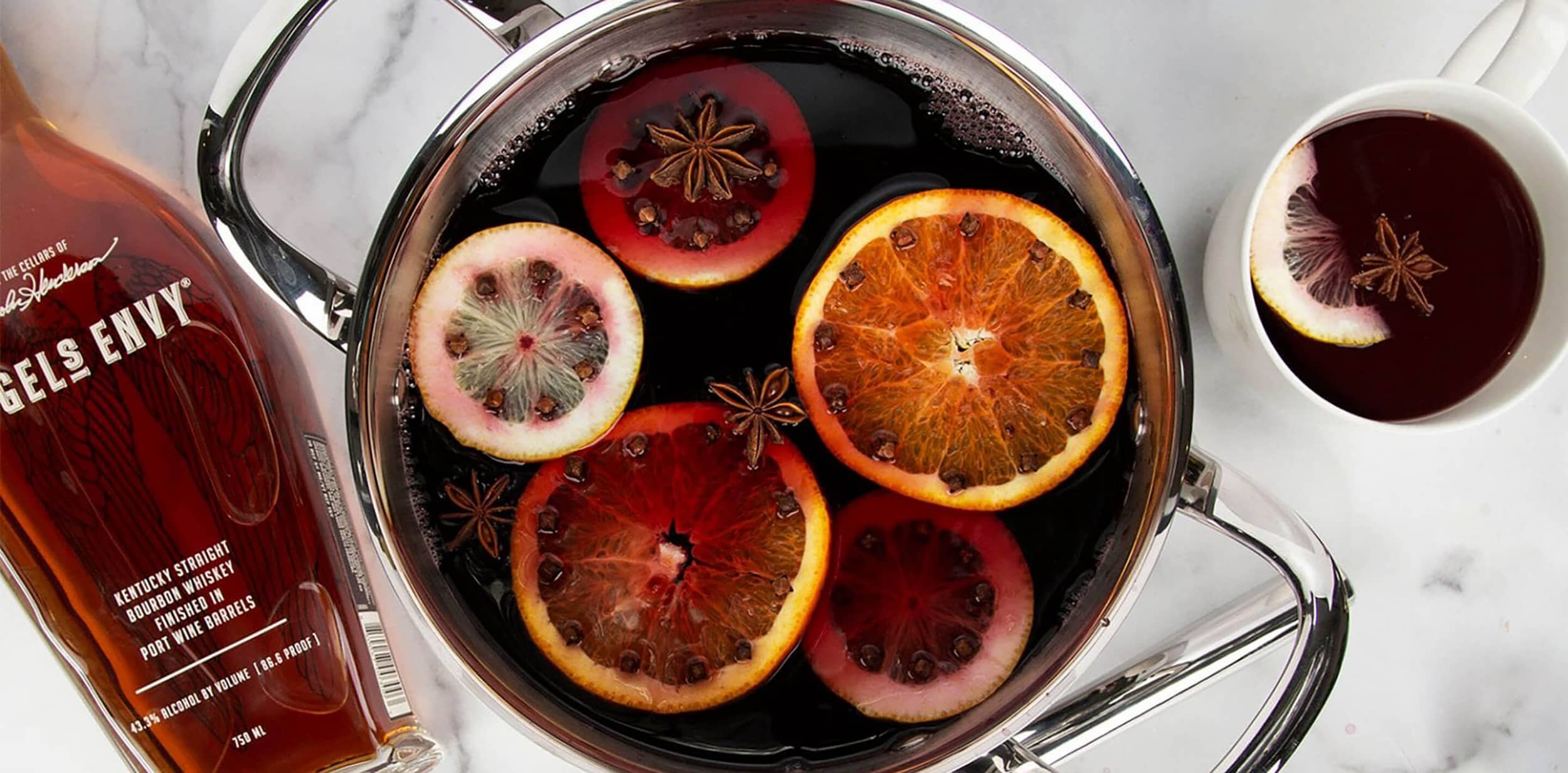 Cocktails – Pairings
Warm Up Your Fall Gatherings with Angel's Envy Autumn Punches
Whether it's Halloween or Thanksgiving, autumn is always worth celebrating. It's a chance to gather together and enjoy the final fling of warm weather's abundance before the cold, gray monotony of winter sets in. Because while whiskey is good in any season, it's particularly fine throughout the fall. As it's a season that deserves celebration, we've asked our Whiskey Guardians for fall punch recipes, and they've delivered a bounty unto us, which we're delighted to share with you. We hope these make your fall festivities both delicious and memorable.

Our first recipe comes from Chicago Whiskey Guardian Nikki Allen.
Bad Apple
Ingredients:
1 bottle of Angel's Envy
1 full gallon of apple cider
1 lemon cut into wheels
1 orange cut into wheels
6 cinnamon sticks
12 oz. of maple syrup
Instructions:
Add ingredients to punch bowl, stir and enjoy.

Additional notes from Nikki:
"Recipes aren't always an exact science and you should taste as you go and adjust the punch to your tastes. For example, you can always add a splash of fresh lemon or orange juice if the wheels don't infuse enough, or about 6 oz of Cointreau or your favorite triple sec. If you like a more whiskey forward taste and not as sweet, skip the maple syrup."
Our second recipe is courtesy of Nicole Battle, our Whiskey Guardian from Pittsburgh, PA.
Heaven's Pumpkin Patch
Ingredients:
1 bottle of Angel's Envy
1 cup of cinnamon tea (chilled)
1 cup of pumpkin syrup (recipe below)
1/2 cup of lemon juice
1 bottle of Martini & Rossi® Asti
1/2 oz. of Fee Brothers® black walnut bitters
Instructions:
Combine all ingredients in punch bowl with a large block of ice, and serve in small punch cups. (If no large format ice available, just chill punch and serve over ice.)
Pumpkin Syrup Recipe
Ingredients:
1/2 cup of canned pumpkin
1/2 cup of brown sugar
1 tablespoon of vanilla extract
2 cups of hot water
Instructions:
Add all ingredients to a sauce pan and heat over medium, stirring until pumpkin puree and sugar is dissolved. Chill for 2-3 hours.

And for our final, slightly different large-format fall sipper, we have Whiskey Guardian Rachel Kling to thank for this remarkably delicious recipe.
Angel's Envy Mulled Wine
Ingredients:
1 cup (or more to preference) Angel's Envy
2 bottles of fruit-forward, full-bodied red wine (Malbec, Cabernet Sauvignon, etc.)
3 orange
3 lemons
Cloves
Cinnamon Sticks
Star Anise
Several tablespoons brown sugar to taste
Instructions:
Heat in a crockpot on high. Add the oranges and lemons cut into wheels and studded with cloves, 3-5 cinnamon sticks and star anise pods, several heaping tablespoons of brown sugar and 1 cup of Angel's Envy. If you don't have a crockpot, warm the ingredients over medium heat, without boiling, for 10-15 minutes and serve.

Once warmed/set, serve in coffee mugs garnished with an orange slice

Rachel adds, "The best part of this recipe is it's hard to go wrong with spice preferences, and it only improves as it sits. Cheers!"