You are reading
How Do You Go from Rye to Masterpiece? Wes Henderson on Angel's Envy Rye
Angel's Envy Rum Finished Rye is a distinctly different take on a rye. Wes explains, "The rye and the rum, to me, really seemed like a bold move. It was taking the rye, which is known for its spiciness and it's very assertive flavor and complimenting it with the characteristics of a good rum. So we sampled over a hundred rums. To be able to pull all of these different rums from all over the place was really pretty incredible to do."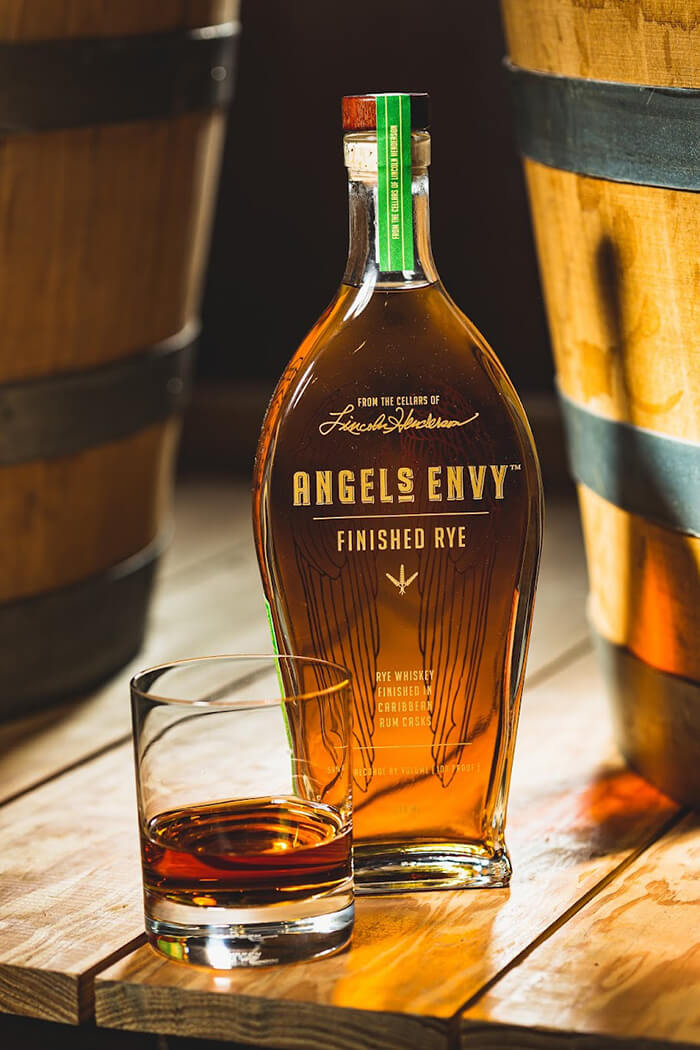 "Really, at the end of the day, the most important thing was the interaction of the complexity and spiciness of the rye and the Caribbean roots, the spiciness and sweetness of the rum, and putting those two things together in a way that enhanced, rather than cancelled each other out. That was really the big challenge. I wanted it to be a roller coaster of flavor as you sample the rye, I wanted it to go from the rye to the rum and back to the rye. You taste components of each throughout different phases as you drink it," Wes said. Ultimately, they decided on rum barrels that were originally used to age cognac. It wasn't an obvious choice. But once they discovered the natural pairing, agreement was unanimous. But that was only the beginning.
Even after selecting the finish, the team still wasn't close to a finished product. "Early on in the creative process, we had six different blends of the rye, which, internally, we narrowed down to three, and then we shared those with trusted contacts. Interestingly, we made a full circle with the rye. We came back with a final blend that was virtually identical with the internal team's pick from the first six. We just had to think it through to make it back to the start. Still, everybody had a hand in it, and that's what cool about what we do. As a blending and creation team, we don't have tunnel vision. We're influenced along the way. It's not like we wake up and decide that this is what we're going to do, and that's exactly what we do. That's the value of a smaller company – it's a more organic creation process. We'll talk to people naturally, but we'll never do focus groups."
Like his father before him, Wes shares the malcontent's spirit when it comes to creation.
"The one thing I'll always have, the one thing I'll never get over, and I don't think you should get over, is a sense of performance anxiety. You're always second-guessing yourself, even after the masterpiece is finished. You've painted the Sistine Chapel. You've created something and you know it's good, but you can't help thinking maybe you could have done something better. I think it's good to be confident, but not cocky, and always be looking for ways to improve."