Summer Food and Cocktail Pairings for Winning Grill Season
It's finally summer and grilling season is fully upon us. We found some amazing recipes and cocktail pairings that will make your summer cookout stand out from every other backyard barbecue. Follow our formula for a delicious meal and you (or your guests) won't be disappointed.
The Starters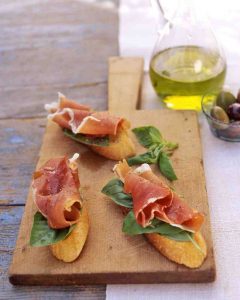 There's no reason not to get a little fancy with the finger foods. We're all grown-ups here, and it will be your guests' first impression. We found a delicious recipe for Prosciutto Basil Crostini—because if you can't improve something by putting cured meats on it, it can't be improved.
Recipe for Prosciutto Basil Crostini
First Round
For the first cocktail, we decided on something light and summery that would accent the underlying basil flavor nicely, while still strong enough not to be overpowered by the prosciutto.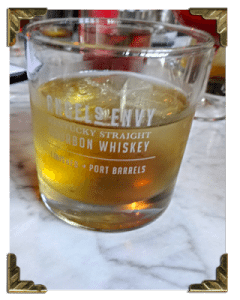 Basil Envy
By Jason Cobbler of Louisville, KY
Ingredients:
2 parts ANGEL'S ENVY Bourbon Finished in Port Barrels
1 part basil syrup
1 eye dropper full of orange bitters
Instructions:
Mix liquids together and serve on the rocks.
For Basil Syrup: combine 1 cup of sugar with ½ cup of water and ½ cup washed basil leaves in a small saucepan. Bring to a simmer stirring occasionally until sugar has dissolved. Remove from heat, let the syrup cool and then strain into a container.
The Main Course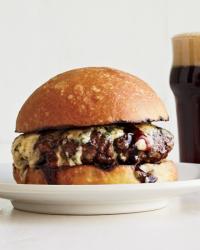 It's summer. It's the season of burgers. This particular burger really caught our eye with its port wine sauce. While the recipe calls for a cast iron pan, we don't think it'd hurt things too much to grill instead.
Recipe for Umami Burgers with Port and Stilton
Second Round:
It takes quite a cocktail to pair with the bold flavors of that burger, but we think the Divine Fiend is the drink to do it. With it's fruit notes, it should roll with the flavors of the burger, rather than try to stand toe-to-toe with them.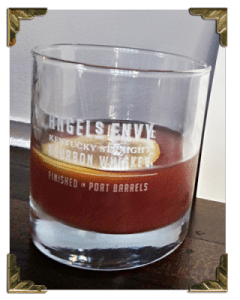 Divine Fiend
by Cameron Lyles of Louisville, KY
Ingredients:
1 part ANGEL'S ENVY Bourbon Finished in Port Barrels
¾ part Lillet Rouge
¾ part Dry Curaçao
¾ part fresh Lemon Juice
3 dashes Regan's Orange Bitters
Instructions:
Shake, double strain. Serve up with an orange peel garnish.
The Dessert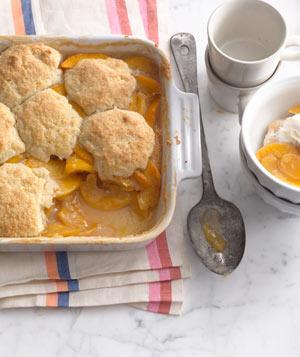 If we went a little fancy on the appetizers and burgers, it's only because we knew we were going to bring it all home with a classic dessert. During the summertime, cobblers are king, and few fruits say summer more than peach. This recipe is a simple crowd pleaser that everyone can enjoy.
Third Round
This was an easy pick for us. The Bourbon Sparkler was an easy pairing for peach cobbler. With notes of peach and apricot and a sparkling Brut base, it's an ideal dessert drink.
Bourbon Sparkler
by Angel Teta of Portland, OR
Instructions
1½ parts ANGEL'S ENVY Bourbon Finished in Port Barrels
¼ parts R&W Apricot liquor
6 dashes of Scrappy's Peach Bitters
2 dashes of Angostura Bitters
4 parts Brut Sparkling (like Argyle or Gruet)
1 sugar cube
Instructions:
Stir down spirits to chill, place sugar cube in a champagne flute, dash bitters on top, then spirits. Top with sparkling and an orange peel.