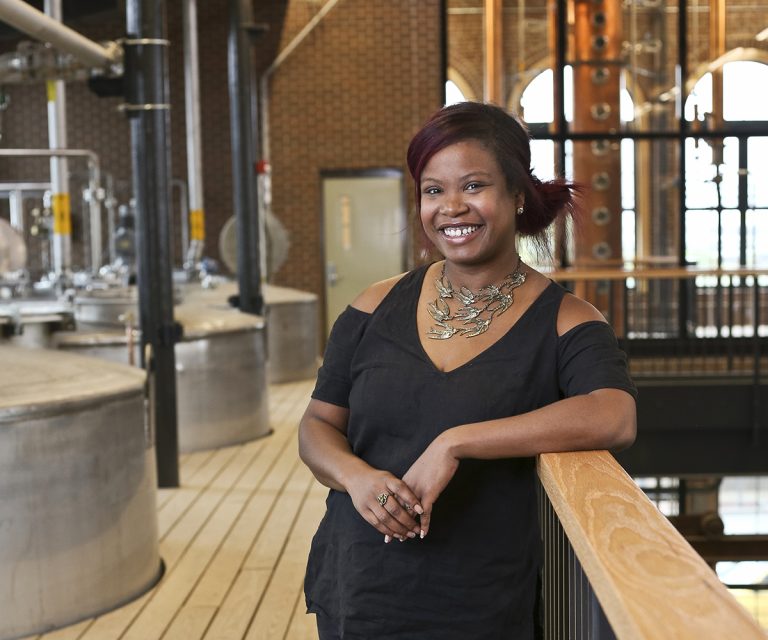 Felicia has been working in restaurants for fourteen years, and has been a bartender for eight of those years. She started bartending in Chicago, and when she moved back to Louisville, she stayed behind the stick. Felicia also has a Bachelor of Science Degree from U of L in theater arts. She explains what initially drew her to the job. "A friend of mine was a bartender, and he and I would play around with flavor profiles. We then began brewing our own beer and I had so much fun with it that I started to train to become a bartender. When I moved to Chicago, I learned quite a bit from my bar manager (a sommelier), and my general manager (a lady with the most impeccable palate I've ever met) and they trained me to become a better bartender by understanding how to better showcase the spirit and to continue innovating and elevating cocktails."
I love the almost improvisational style you have to inherently have in the business.
As to why she continues to enjoy her work, Felicia says, "I love the daily interaction with new people and the continued support of my regulars. I love to show people a whole new way to perceive things that they thought they'd never enjoy, but trust me enough to create something that they'll love. I love the almost improvisational style you have to inherently have in the business. I heard of Angel's Envy after the passing of Mr. Henderson. My first impression was that it was unusual in comparison to most bourbons, having a bit of an unusual flavor provided from the aging in the port barrels. Then my mind started to race with tons of ideas on what cocktails I could make to showcase this unusual flavor profile."
When she's not behind the bar or throwing a dizzying variety of Angel's Envy events around Louisville, Felicia still keeps busy performing. "Outside of work, I teach improv at a summer camp called Young Actors Institute and have done so for 13 years. I still enjoy working as an actor. I also rock climb, ride my bike, and I just started aerial classes. What else? I love hiking with my dog, babysitting my goddaughter and hanging out with my friends." Be sure to check out one of Felicia's many excellent events the next time you're in Louisville—you won't have to look very hard, she stays busy!