You are reading
Mixing Holiday Cheer with Angel's Envy
While we'd argue that whiskey is fine in any season, there's just something magical about the holidays. Maybe it's the chilly bite in the air that balances out the heat of the spirit or whiskey's knack for heightening sentimentality. Either way, December is quite possibly the best month to explore your love of bourbon and whiskey.

And there's no better way to explore than through a few of our holiday-inspired cocktails, created by our exceptional Whiskey Guardians. Whether you're entertaining or enjoying a quiet night in, any one of these three libations is the perfect choice to add a little holiday cheer to the occasion.
HOT BUTTERED RUM
Hot Buttered Rum might take a little prep, but after the initial work is done, these hot drinks are simple to make and perfect for spreading a little winter warmth. You can batch the mix for a party or freeze it and enjoy Hot Buttered Rums in calm, peaceful solitude over the course of many nights. It's your call, but either way, you're going to be enjoying an exceptional, old-school, winter cocktail.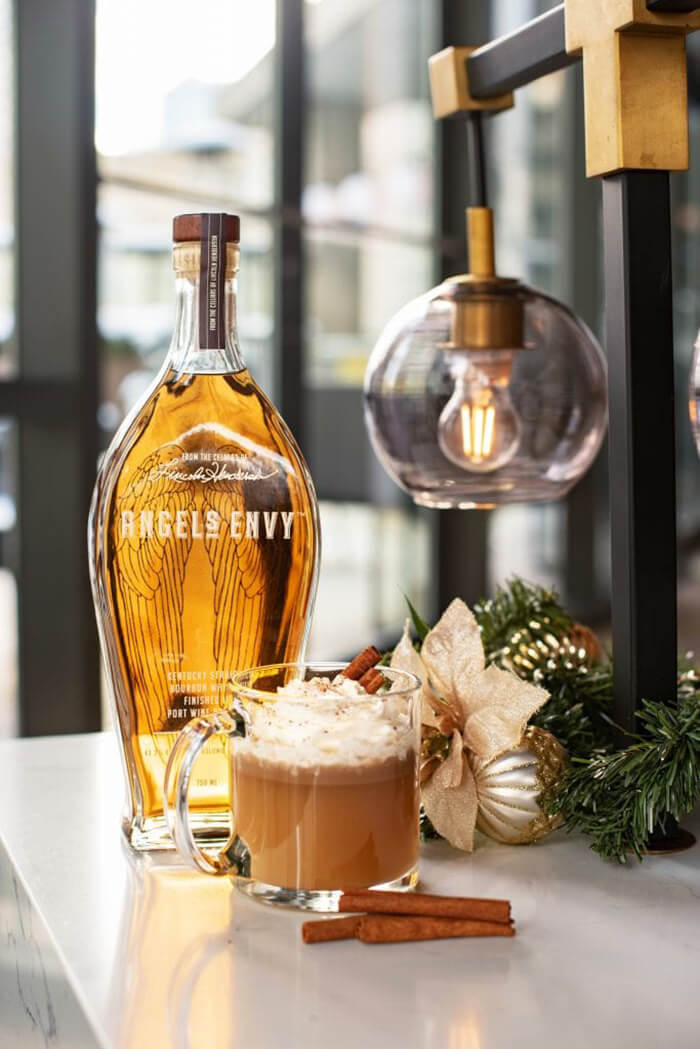 HOT BUTTERED RUM
Ingredients:
1 1/2 oz ANGEL'S ENVY Kentucky Straight Bourbon Finished in Port Wine Barrels
2 tablespoons of Hot Buttered Rum Mix
3 oz hot water
Instructions:
Place the above ingredients into a coffee mug or glass. Stir, top with whipped cream and a cinnamon stick as a garnish.
HOT BUTTERED RUM MIX
Ingredients:
1 pound butter
1 pound brown sugar
1 pound sugar
1 tablespoon ground cinnamon
1 teaspoon ground clove
1 teaspoon ground nutmeg
1 quart vanilla ice cream, slightly softened
Instructions:
Add all the ingredients except the ice cream into mixing bowl and stir. Add the ice cream and stir until mixed. Place in lidded container, seal and freeze to store.
HOLIDAY EGGNOG
Eggnog is a classic for a very good reason: it's delicious. By December, most of us have set aside all dietary restraint and have given ourselves over to the season of extravagance. Eggnog is the cocktail embodiment of indulgence and should be fully embraced during this time. Here's a simple and delicious recipe perfect for entertaining.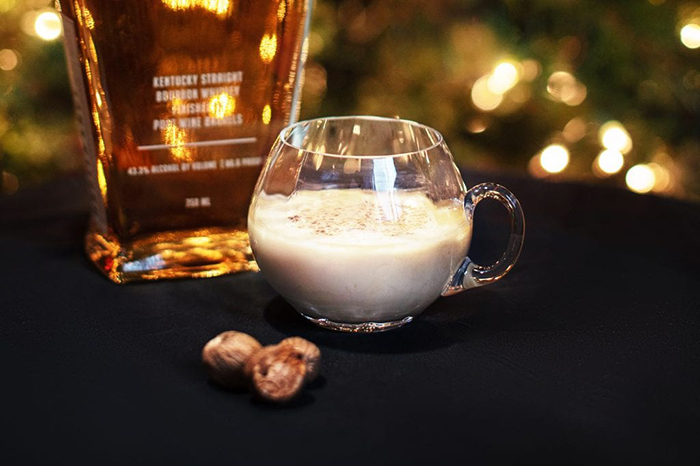 HOLIDAY EGGNOG
Ingredients:
1 cup ANGEL'S ENVY Kentucky Straight Bourbon Finished in Port Wine Barrels
4 to 5 fresh organic eggs
1 1/2 cups whole milk
1 cup heavy cream
1/3 cup simple syrup
1/2 cup Madeira or Port wine
3 scoops vanilla ice cream
1/2 teaspoon cinnamon
1/2 teaspoon nutmeg
1/2 teaspoon clove
(Serves 8 to 10)
Instructions:
Separate egg whites and yolks and blend first the egg whites on medium for 2 minutes or until stiff foam begins to form. Add yolks and simple syrup and blend on high for 2 more minutes. Add ice cream, whole milk, heavy cream, spices then blend again on high for 2 minutes. Pour into mixing bowl, add bourbon and port or madeira while stirring/whisking the mixture. Cover bowl or transfer to a sealed container and refrigerate for at least 1 hour. Serve in a mug with no ice. Garnish with a sprinkle of fresh grated nutmeg.
THE NUTCRACKER
The Nutcracker might not yet be considered a holiday classic like Eggnog or Hot Buttered Rum, but there's always room for new classics. This deep and rich cocktail is a celebration of everything delicious about the season and is easily going to be a new favorite. If you can't find our Rye, it's delicious with our bourbon finished in port barrels as well!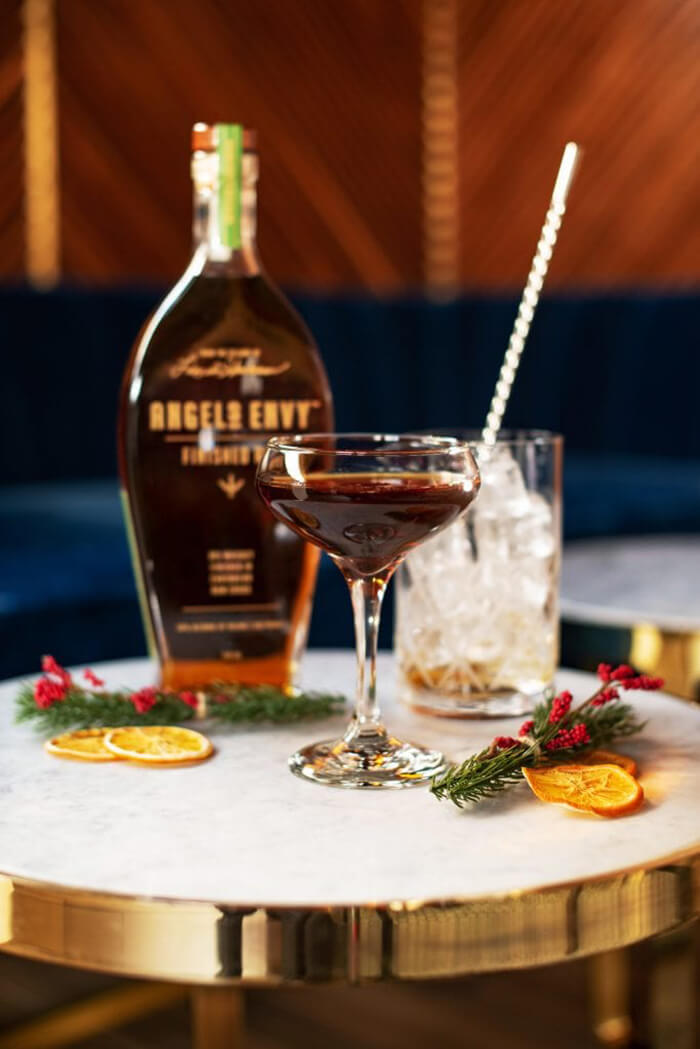 THE NUTCRACKER
Ingredients:
2 oz ANGEL'S ENVY Rye Finished in Rum Barrels
1/2 oz sweet vermouth
1/2 oz Amaro Averna
1/4 oz creme de cacao
2 dashes black walnut bitters
Instructions:
Add ingredients in a mixing tin or glass. Stir, strain into a coupe glass and serve up with an (optional) absinthe rinse.