You are reading
Angel's Envy Best of Halloween Cocktail Pairings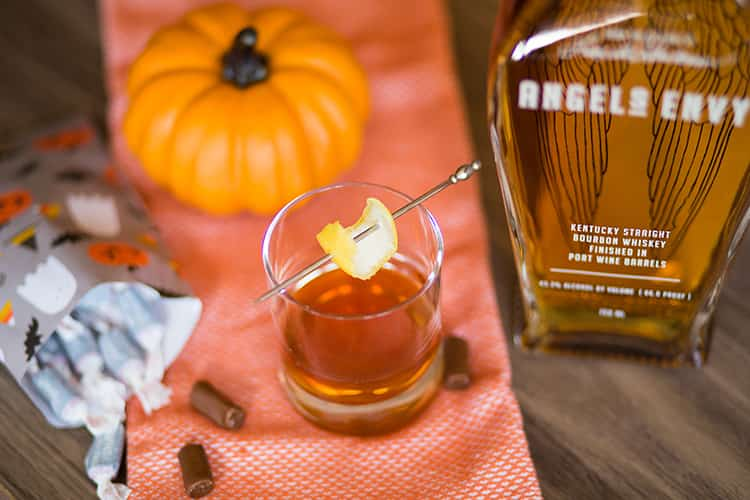 Cocktails – Pairings
Angel's Envy Best of Halloween Cocktail Pairings
Over the years, we've written a series of Halloween pairing articles for you, the adult gatekeepers of the Halloween candy. It's easy to get stuck with leftover candy, or too much candy from your trick-or-treating child to eat in good conscience. We'd like to help you out with that. So, we've compiled our favorite Halloween candy and cocktail pairings for you here, providing you with recipes for the best drinks for your excess candy. Please note, any Candy Corn seen in these images is purely decorative and not meant for actual consumption.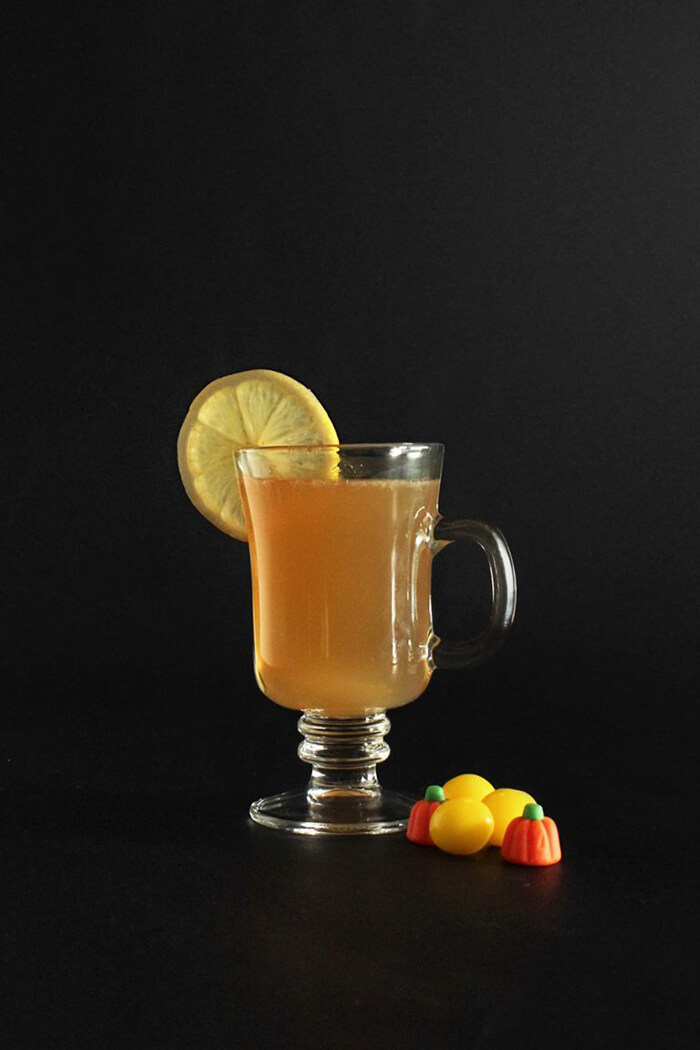 Hot Toddy Paired with Lemon Candies
Maybe it was a cold night spent hiking from door to door with your children, and maybe you need a hot drink to drive the chill from your bones. Also, maybe you've got some hard lemon candies just laying around? May we recommend our classic hot toddy recipe. It's the perfect complement to lemon candies.
Ingredients:
2 oz ANGEL'S ENVY Bourbon Finished in Port Wine Barrels
1 oz honey
1/4 oz lemon juice
1/4 cup of hot tea or water
Instructions:
Combine the first four ingredients into the bottom of a mug. Garnish with lemon or a cinnamon stick.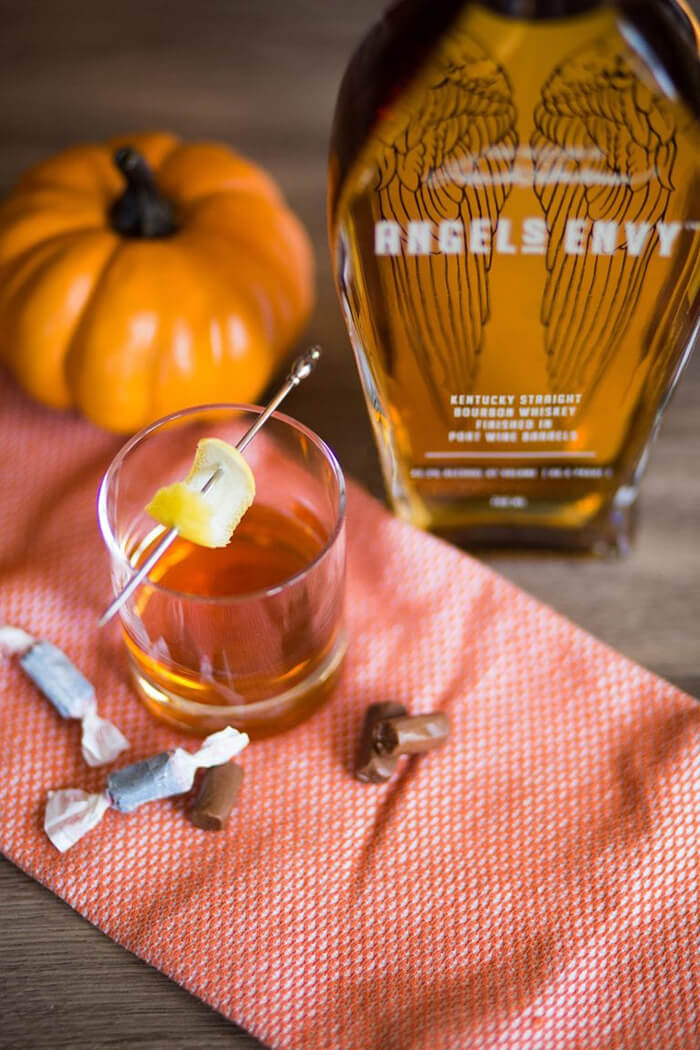 Plain Whiskey Cocktail Paired with Chocolate Rolls
You might be tempted to lump these in with the other weird taffies; we initially were. But they're iconic, and their chocolate(ish) flavor secured them their own special pairing. That, and chocolate just doesn't work as well with apples. However, chocolate works very well with bourbon and whiskey, which is why we've paired these little chews with The Plain Whiskey Cocktail. A possible precursor to the Old Fashioned, it's spirit-forward in the best possible way, and it's an excellent partner to these ubiquitous chocolate treats.
Plain Whiskey Cocktail
Ingredients:
2 oz ANGEL'S ENVY Bourbon Finished in Port Wine Barrels
1/6 oz simple syrup
2 dashes of Angostura Bitters
Instructions:
Shake ingredients with ice, then strain into a plain glass. Squeeze a lemon peel over it and then garnish with the peel. Enjoy.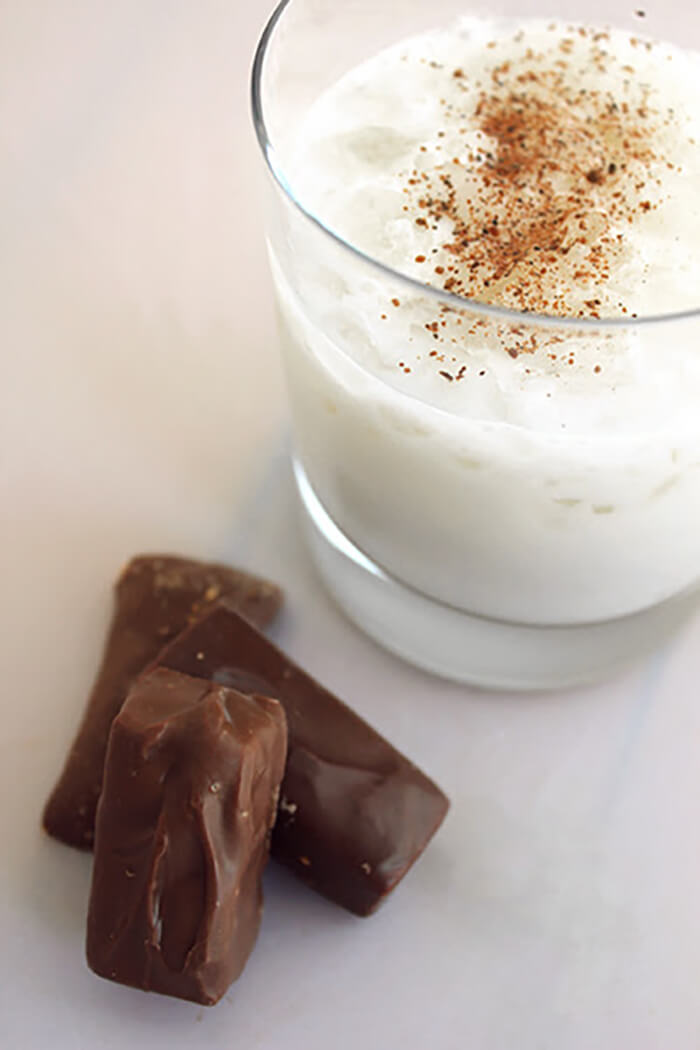 Vanilla Cream Punch Paired with Mini–Chocolate Candy Bar
This is a tricky one. There are DOZENS of varieties of mini-chocolate bars with a wide variety of fillings: nougat, caramel, coconut, peanut butter, peanuts, rice crisps—you name it, they've got it. So is this an impossible pairing? Our Vanilla Milk Punch says otherwise. It's rich, creamy, and the vanilla will work with virtually any flavor you can find encased in chocolate.
Vanilla Cream Punch
Ingredients:
1¾ oz ANGEL'S ENVY Bourbon Finished in Port Wine Barrels
3½ oz whole milk
1 oz simple syrup
2 droppers Bitter Tears Lolita Bitters
Instructions:
Dry shake all ingredients hard. Pour into a double old fashioned glass with shaved ice. Shave fresh nutmeg on top and enjoy.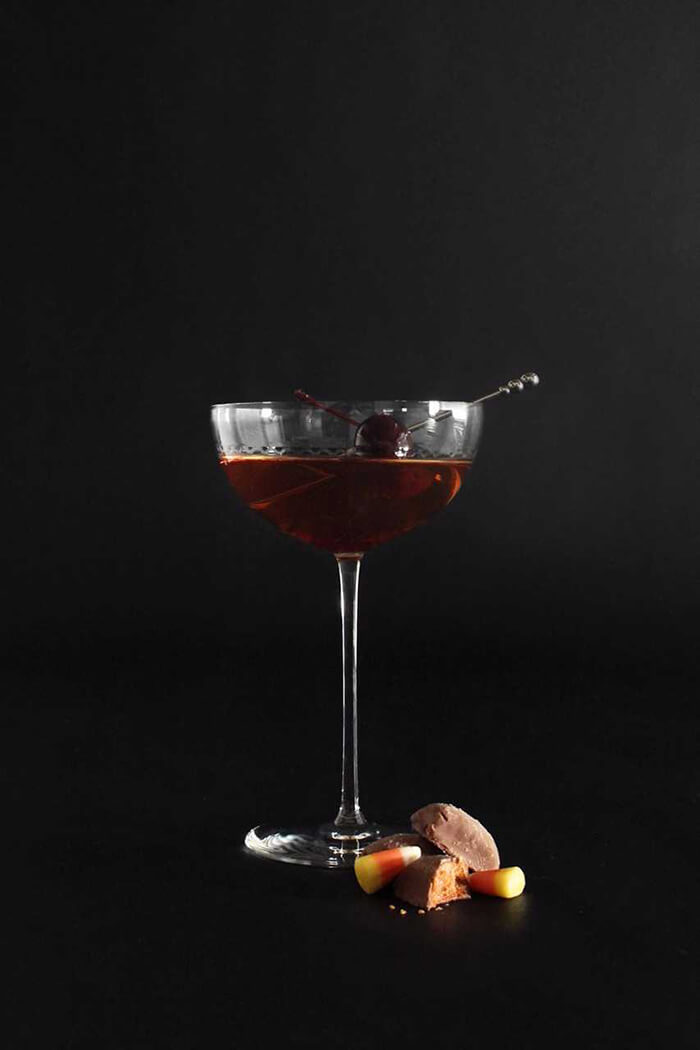 Manhattan Paired with Peanut Butter Crisp Candy Bars
What more can we say about the Manhattan; it's a perfect classic cocktail. Luckily, peanut butter crisp candy bars are an excellent accompaniment to the robust notes of the drink. The salty, sweet chocolate and peanut butter flavors enhance the essential flavors of the Manhattan, making this an excellent pairing after a long night of sugared-up children.
Ingredients:
2 oz ANGEL'S ENVY Bourbon Finished in Port Wine Barrels
½ oz sweet Vermouth
2 to 3 dashes of Angostura bitters
Instructions:
Pour all ingredients into a mixing glass filled with ice cubes. Stir well. Strain into a chilled cocktail glass. Garnish with a cherry.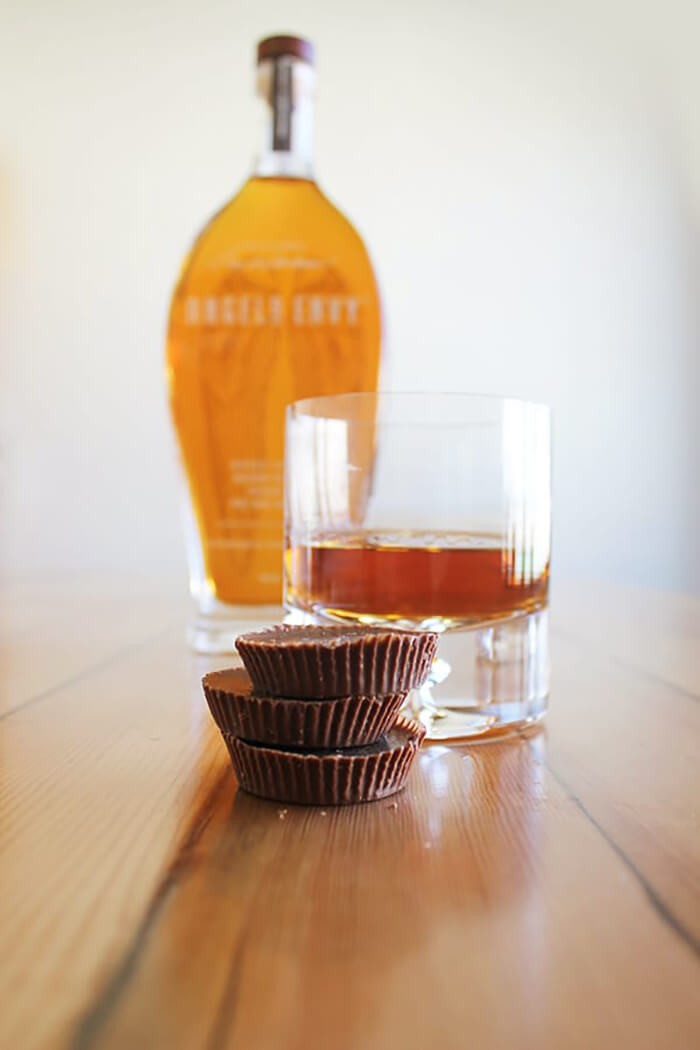 Neat Angel's Envy Paired with Chocolate Peanut Butter Cup
This is the king of Halloween candy. It's requires nothing more than excellent whiskey, and a neat pour of Angel's Envy is up for the challenge. Angel's Envy accentuates the chocolate while bringing out the faint saltiness of the peanut butter. It's a damn good match.