Join us at
The Home of
Angel's Envy
See available tickets by date or by a specific tour, class or experience.
Choose a Date

Book an Experience by Date
Choose a Date
Book a Tour
Angel's Envy Welcome Tour
Bottle Your Own
Signature Tour
Book a Class/Experience
Behind the Bar Cocktail Class  Unavailable
Henderson Cocktail Class  Unavailable
Rye Cocktail Class  Unavailable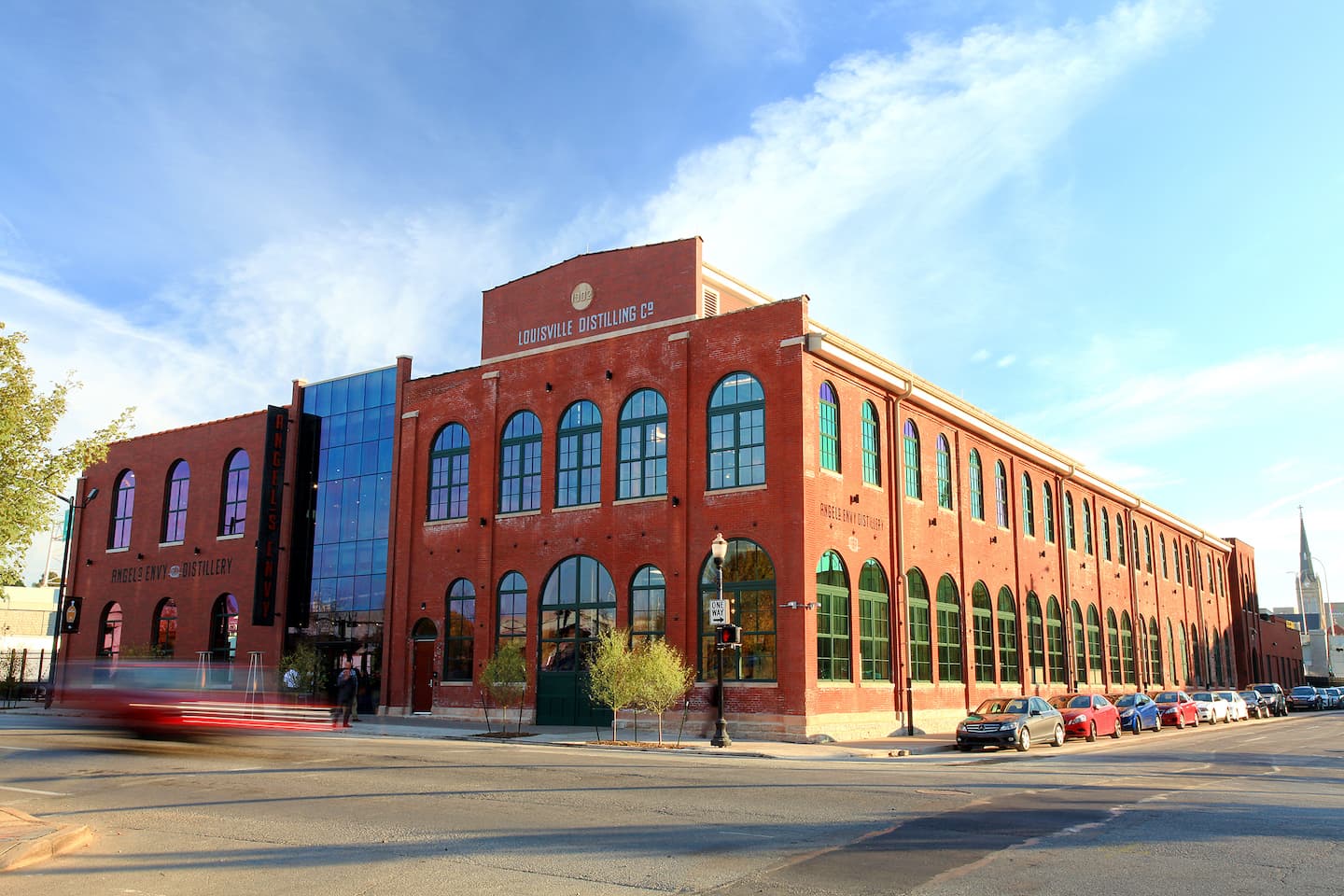 We are experiencing limited hours due to CoVID-19
Learn more and read our FAQ

What resources are you using to make your policies?

We have been following the CDC, Healthy at Work and KY Governor Phased Approval recommendations, as well as working closely with Bacardi Global, LDC Leadership and the Kentucky Distillers Association.

How can I wear a mask and participate in a tasting?

Simply leave the mask on when you're not directly nosing or sipping your whiskey. Hand sanitizer will be available so that you may ensure that your hands are clean.

Can I cancel my tour?

Guests may cancel their tours at any time, and a refund will be issued.

Is production still running?

Yes, our production is still running during this period, and we are taking every precaution to ensure the health of our staff and the safety of our product.

What is the status of the employees?

We are working with health experts and taking every step to guarantee the safety of our employees. None of our employees currently have COVID-19/coronavirus.

Should I book a tour for a future visit?

Availability is subject to change based on the evolving situation.

What is the distillery doing to prevent the spread of COVID-19/coronavirus?

Angel's Envy is deeply committed to the health and safety of our visitors and staff. As a distillery, keeping a pristine production facility has always been one of our highest priorities, and we are committed to maintaining our already high standards. Further, we will be following closely with all local health authority guidelines and increasing the frequency of our cleaning.

How do I pre-order gift items?

Please review a list of our current retails items on our online retail store. Once you've determined which Angel's Envy merchandise you'd like to purchase, call 502-890-6300 to place an order over the phone. A retail associate will then process your order and help you schedule a pickup time and date. When you reach the distillery, please call to notify us of your arrival and we'll bring your purchase out to your car.
The Kentucky Bourbon Trail® strongly recommends that participating distilleries require masks for all visitors and staff, no matter their vaccination status. This decision is based on CDC and OSHA guidance to protect our customers, staff, and families. We appreciate your understanding and cooperation so we can continue to offer tours & tastings.
Masks are recommended and will be provided as needed in retail
Masks are required in all production areas
Guests can request that their temperature be taken
Shopper capacity has been reduced in the retail area
We've Always Been Proud to Call Louisville Home
On July 9th in 2013, three generations of Hendersons came together to break ground on our new distillery in Louisville's Whiskey Row where we welcome you to visit and share our traditions through behind-the-scenes tours and unique distillery experiences.
Visit the Distillery
Angel's Envy Distillery
500 E. Main St.
Louisville, Kentucky 40202
Distillery/Experience Hours
Some tours are temporarily suspended due to COVID-19.
Brand Home closure dates
Friday, December 24, 2021
Saturday, December 25, 2021
Friday, December 31, 2021
Saturday, January 1, 2022
Tuesday, January 11, 2022
Tuesday, January 18, 2022
RETAIL HOURS
Monday
3:00pm - 8:00pm
Tuesday
3:00pm - 8:00pm
Wednesday
3:00pm - 8:00pm
Thursday
3:00pm - 9:00pm
Friday
3:00pm - 9:00pm
Saturday
10:00am - 8:00pm
Sunday
1:00pm - 7:00pm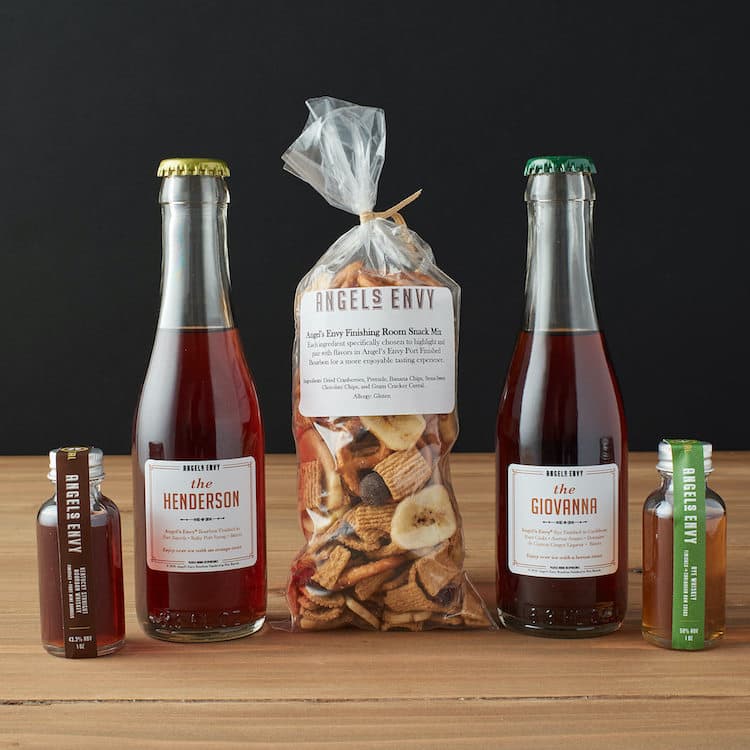 Take Home Cocktails
Enjoy fresh, pre-batched Angel's Envy distillery cocktails from the comfort of your own home. Our expert bar staff has curated a menu of Finishing Room Bar favorites – pick up your cocktails from our downtown distillery.
Place your order by calling 502-890-6300.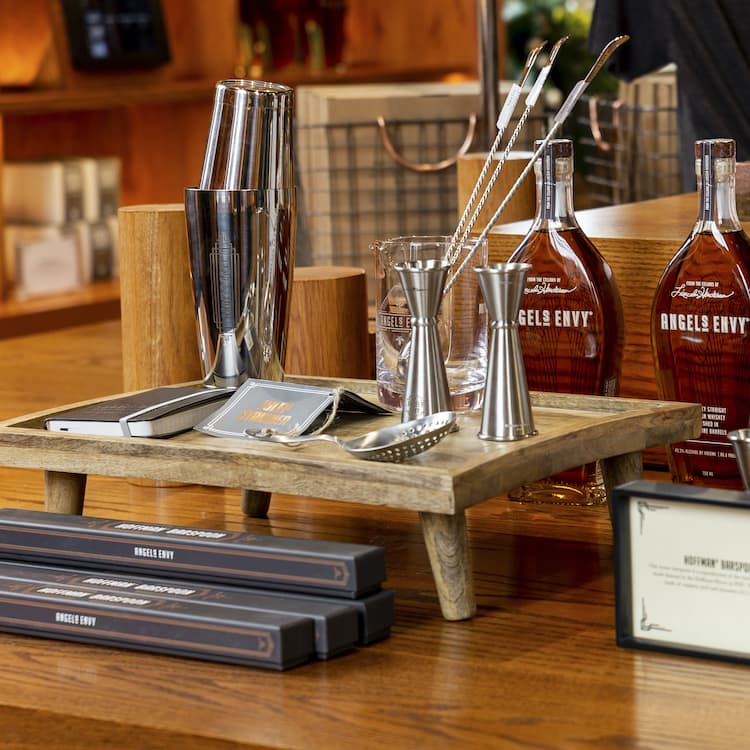 Distillery Gift Shop
We understand continued concerns surrounding Covid-19 and social distancing practices. In response, we've added the option to place your gift shop order over the phone and have it delivered curbside.
Simply contact us at 502-890-6300.
Our Distillery Experiences
Get a guided, insider's tour of our fully operational urban Main Street distillery in Louisville's Whiskey Row.
---
---
Our Classes & Signature Events
As our distillery grows each year, we continue to expand all the ways you can share and enjoy Angel's Envy.
The Finishing Room
At the end of your Angel's Envy visit, you'll have an opportunity to enjoy a tasting or cocktail at our one-of-a-kind Finishing Room bar. Please note, our Finishing Room is not open to the general public.
Angel's Envy Distillery
Our distillery is located in the heart of Louisville's Bourbon District on Whiskey Row, a one block-long entertainment district that stretches across W. Main St. and Washington St.
Visit The Distillery
Monday
Tuesday
Wednesday
Thursday
Friday
Saturday
Sunday
Retail Hours
3:00pm - 8:00pm
3:00pm - 8:00pm
3:00pm - 8:00pm
3:00pm - 9:00pm
3:00pm - 9:00pm
10:00am - 8:00pm
1:00pm - 7:00pm

* Please remember, hours subject to change. For specific availability, Book a Tour.
** We understand continued concerns surrounding Covid-19 and social distancing practices. In response, please place your gift shop order over the phone at 502-890-6300 and we'll have it delivered curbside.