You are reading
Celebrating Father's Day With Lessons From Lincoln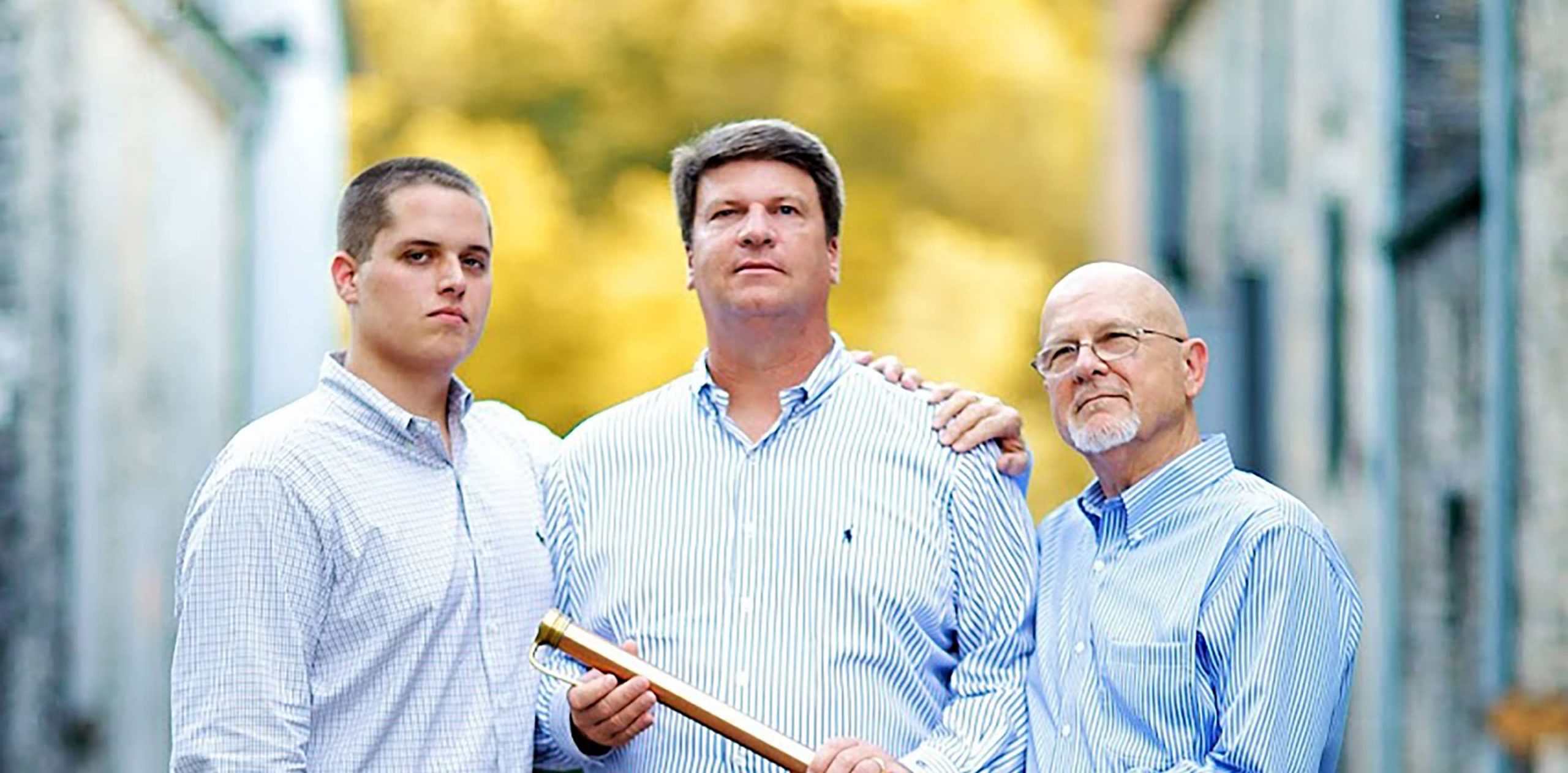 Inside Angel's Envy
Celebrating Father's Day With Lessons From Lincoln
Many people know Lincoln Henderson as an innovator and expert craftsman. But, he was also a father and grandfather who passed down many of his best qualities, along with lessons he gained, during his more than 40 year career in the industry. His son, Wes, and grandsons, Kyle and Andrew, sat down to reflect on what they've learned from Lincoln over the years, as well as how his legacy continues to inspire Angel's Envy today.

THERE'S NO SUBSTITUTE FOR EXPERIENCE.
WES: "I think about Dad every time I pull up to the doors of the distillery—it was his playground, creating and looking at things in different ways. Where it would take us a day or two to figure out why a fermentation went wrong, Lincoln could figure out how to improve it in two seconds. I know better than anyone that Dad has forgotten more than I'll ever know about a lot of the technical aspects of what we do – but that's why he's a legend."
KYLE: "One of the first times my grandpa and I sat down to specifically discuss tasting would have been for the first Cask Strength release. He actually helped develop standard protocols for liquid sensory analysis, and when he walked me through the process, it blew my mind. I never knew how much went into writing 20 words that wind up being whiskey notes. My grandpa could identify somewhere in the neighborhood of 300-400 flavor compounds, which he developed over decades. He had quite literally one of the most recognizable palates in the whole world. We've changed absolutely nothing about his tasting process."
ANDREW: "The lesson my grandfather passed down to my dad, and my dad passed down to me, is that you have to learn by doing the stuff you really don't want to do—it's the only way to be successful. My dad actually started by working in the mailroom of Brown-Forman; I spend most of my days scrubbing floors more than anything right now. If you start from the bottom though, you're going to be better prepared when you get to the top in this industry."

LEAD WITH PASSION.
WES: "I've always had a love for all things science and wanting to learn what Dad did on a technical basis. Even before I understood the science, I'd go to work with him on the weekends to play in the lab. This passion is something that carries over to this day. Even as operations at the distillery, I'm still fascinated by the magic behind what we do, which carries over into how we look for people as we grow the brand today. Lots of people can do jobs. We surround ourselves with people who share the vision and passion for what we do, along with the importance of maintaining that integrity."
ANDREW: "The continuous process of improvement is the part I'm most passionate about. For example, I could add 50 more gallons of water and the end flavor would be completely different. At the end of the distillation, it's going to be another world. And then by the time it comes out of the barrel it's going to be completely different again. We might not know anything until five years from now, but the unknown is what excites me."

REVERE TRADITION BUT EMBRACE PROGRESS.
WES: "We're in an industry that has a tremendous amount of history. It's a small group of people producing most of the bourbon in the world over a number of generations, and it's just over the last few years that I've come to understand the responsibility of being one of those families. We have to safeguard the generations that have come before us while at the same time, learning from those experiences and continuing to experiment, but with honor and respect. As long as you do that, you have license to do the other things."
KYLE: "Lincoln was restless. My dad sure is too, and to a point, so am I. One of the most challenging things with continuing to move forward is pushing the team to grow and do things differently when we've gotten so good at doing what we do. There can be a lot of caution, but you have to help people understand that the minute you stagnate, and don't continue to develop and change and be restless, you kill the brand."
ANDREW: "The most important thing I would want to see passed on to the next generation is to never give up on anything. Sometimes you have to do the thing that everyone is telling you not to do. We built the company on that premise. Always change, always challenge. "

LOOK FOR THE LIGHTNESS IN THE ABSURD.
WES: "Dad always had a very dry sense of humor; he and I are very similar in that respect. I wouldn't call it a dark sense of humor, but we always just got the light out of the absurd. Dad could appear to be the most serious person on the planet to people, but he was nowhere near that. He could find humor in almost anything and I always thought that was amazing—his sense of levity and that type of spirit."
KYLE: "He was a quiet, calm, gentle person in public. Behind the scenes he was a little more rambunctious. I've been told I have a sense of humor very similar to his. Sarcasm was a second language, almost a first second language… You could see in his interactions with people that they couldn't help but laugh and be happy around him."

MAKE BUSINESS PERSONAL.
KYLE: "When Lincoln walked into a room, he treated each person like they were the only person there, and they were his best friend. I don't think there's ever a person he openly admitted not enjoying spending time with it, which has rubbed off on me. You go through life a lot better—and you're a lot more successful in your endeavors—when you give people the respect they're due. Whether they've shown you they deserve it or not, if you expect that they deserve your respect, you're always going to have a more positive outcome."
ANDREW: "Any time I ever met anyone who knew Lincoln, the first thing they'd say is that he treated every single person he ever met like he already knew them. That's something Kyle says all the time: it doesn't matter who you are, you're equal to me and I'm going to talk to you how I'd talk to anybody else. It's really important to stay humble in what we do."

KEEP FAMILY FIRST.
WES: "'Family first' is the basis for everything we do at Angel's Envy—in our private lives, at work, with our whiskey guardians and other partners in the company. If you stick to this principle, it's kind of hard to go wrong. And if things do go sideways, you've got that strength of unity in family that makes dealing with those things so much easier. To me, that's what it's all about."
If you want to share a glass of something distinctly delicious with your dad this Father's day, share the gift of Angel's Envy Bourbon Finished in Port Wine Barrels or Angel's Envy Rye Finished in Rum Barrels.